Biospecimen User Fee Calculator
Calculator for the costs of using biological samples
A comprehensive and easy to use tool that captures annual expenses, resources, and biospecimen accrual and calculates the appropriate user fees.
Sign Up to access to the Calculator.
Understanding the internal cost structures and external economic factors that influence your biobank is essential for maintaining long term sustainability. Knowing how to incorporate these complex variables into a fee structure for biospecimen users can be difficult. Factors influencing user costs include the internal biobank capital and operating activities, increasing demand creating a competitive market, and moral standards that dictate that costs should have an ethical basis. It is therefore important to establish a transparent, reliable and accurate costing model that can be utilized by biobanks.
We have developed a User Fee Calculator to help biobanks calculate appropriate user fees to help sustain their operations, and maintain the supply of quality biospecimens for translational research. This online tool helps biobanks model their costs and calculate user fees. It incorporates the concepts of biobank activity, classification, and development phase. You will need to input data related to your biospecimen accrual and release activities in 2 phases:
Input:
Phase 1 - Biobank Resources : Enter your biobank's expenses including annual operating, staffing, and capital costs. These costs are categorized based on the core biobanking operations of your biobank (accrual, processing, storage, release)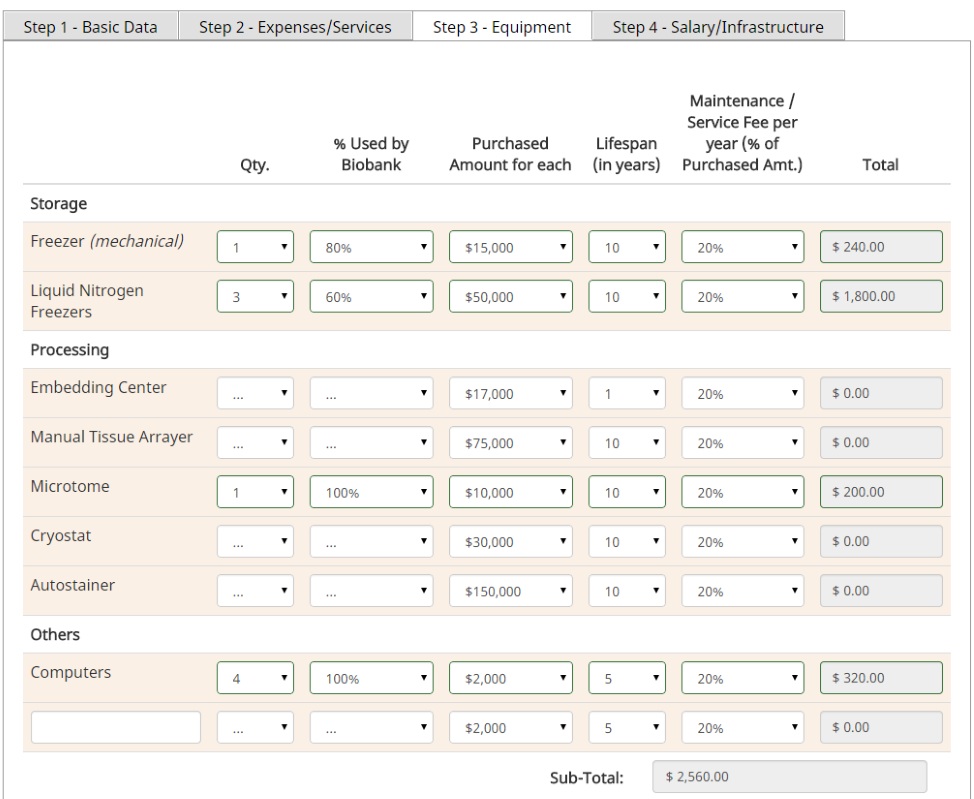 Phase 2 - Material Release: Enter the information associated with study material or specimen release requests from your biobank's users. These expenses reflect services provided by your biobank beyond core operations (e.g. histology, tissue micro-array, laser capture microdissection).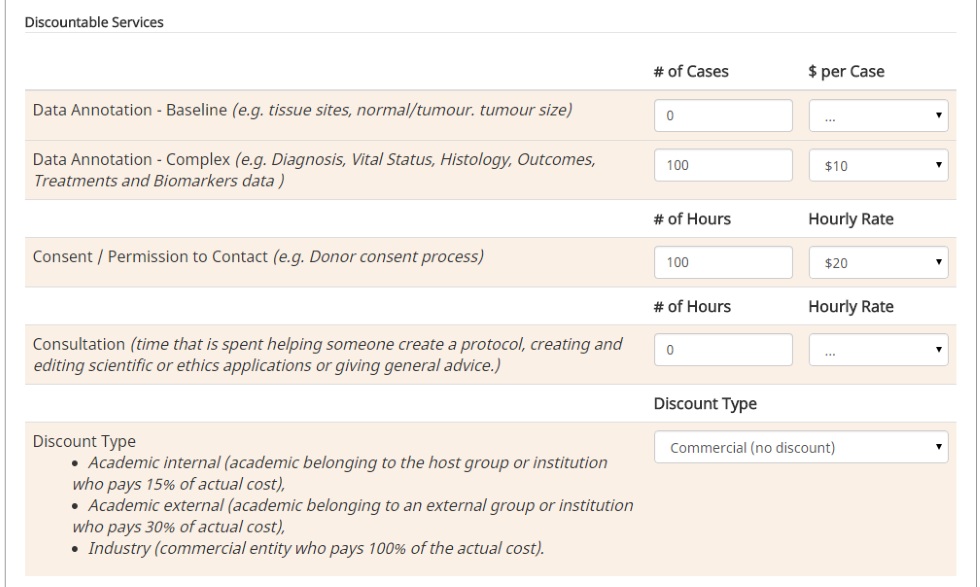 Output:
Phase 3 - User Fee Calculation: Our calculator will return the recommended user fee cost based on your input parameters entered in the previous two phases.
At this time our Biospecimen User Fee Calculator is focused on poly-user biobanks. This tool can also be adapted for used by mono and oligo users biobanks
---
List of items considered by the calculator:
Expenses/Services
Lab and office supplies
Liquid nitrogen
Operation and consent meetings
Pathology accrual
Histology annotation
Software / Databases / Biobank Inventory Management Systems
Equipment
Common equipment (such as -80°C freezers, liquid nitrogen freezers, embedding center)
Percentage used by biobank
Purchased amount
Lifespan
Maintenance / Service fees per year

Salaries - number of personnel and their salaries

Infrastructure cost - utilities, building rentals

Biobank Accruals
Number of cases and biospecimens
Types of biospecimens and their collection priority, required resources, and overall proportion of cases
Service Cost
Specimen record annotation (e.g. percentage of necrosis, tumour grade)
Clinical data annotation (e.g. tissue types, tumour size, vital status, histology, outcomes, treatments and biomarker data)
Tissue sectioning services (e.g. tissue slides, TMA)
Other custom services
Consent and enrolling research participants
Additional Fees
Shipping costs
Discounts (optional)